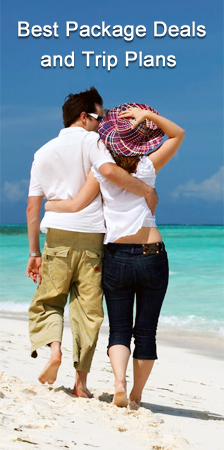 Exotic Ajanta Ellora Tour Packages
Aurangabad

03 Nights / 04 Days
Aurangabad (03 Nights / 04 Days)
Day 1 :Aurangabad
Arrive Aurangabad & transfer to hotel Overnight at hotel.
Day 2 : Aurangabad
Morning breakfast at the hotel After breakfast proceed for full day Excursion to Ajanta – (closed on Monday) These 2nd century caves are fine achievements by Buddhist monks. Beautiful frescoes, wall paintings and vivid sculptures reflect the peak of ancient Indian art and architecture. The horseshoe shaped gorge has 30 caves dividend in two phases.Return back to hotel Overnight at Hotel.
Day 3 : Aurangabad
Breakfast at the hotel .After Breakfast proceed for sightseeing of Ellora Caves (closed on Tuesday) – The World Heritage site, one of the finest examples of rockcut caves , there are 34 caves, Cave 16 is the most famous and has Lord Shiva sculpted on the rocks-the largest monolith in the world. The other popular cave is No.32, a shrine within contains the seated Lord Mahavir, last of the 24 tirthankars of Jainism. After Ellora Caves, further proceed for Pithalkora Caves:-Pithalkora caves are about 78 kms. From Aurangabad. The intricate work on the sculptured facades in these caves is definitely worth a visit. Nestling within the Satmala range of the Sahyadris, is a group of 13 cave sanctuaries, both chaityas and viharas on a remote land cluster that date back to the 2nd century BC.
Return back to hotel. Overnight at hotel.
Day 4 : Aurangabad
Breakfast at the hotel After breakfast proceed to The Daulatabad fortress was an old Hindu stronghold originally called Devgiri Fort. Seven outer walls and an internal moat protected the fort built by Bhilam Raja of the Yadava dynasty in 1187. It was the prime fortress of many successive dynasties in the Deccan and is considered one of the oldest existing and impregnable forts of India. Emperor Mohammed-bin-Tughlaq captured and plundered it in the 13th century and made it the second capital of the Delhi Sultanate renaming it Daulatabad. It is famous for its series of trick defences, secret escape routes etc.. Bibi-ka-Maqbara, built in memory of Aurangazeb's wife RabiaDurrani and meant to surpass the TajMahal (built by his father Shah Jehan) in grandeur and Aurangabad Caves (7, 10 & 13) carved out during the 7th century. The most interesting is Cave 7 with a huge figure of BohisattvaPadmapani who is praying for deliverance from eight fears which are illustrated here dramatically in stone. Panchakki or Water Mill, an ingenious creation of Mughal engineers who used it to harness water to run large grinding stones which served as a flour mill. The tomb of a muslim saint lies in the garden beyond the mill.evening Proceed to airport or station for onward journeys.
Price
3* Package cost : Rs. 12690
4* Package cost : Rs. 14900
Tour price includes :
Meals as per plan indicated in above table. (CP - Room & Breakfast)
Accommodation in hotels on Twin Sharing ( 01 DBL Room) basis as per the category or similar hotels.
All applicable hotel taxes.
Transfers & Standard Sightseeing as given in the itinerary by A/C Tata Indica.
Driver Allowance, Fuel Charges, Road Toll Tax, Parking & Interstate Taxes of Vehicle.
Tour price does not include :
Any Airfare / Train fare.
Any meals other than those mentioned (Highlighted) above.
Any portage at Airport and Hotels tips, Laundry, Mineral water, Telephone charges And all items of personal nature and meals and drinks not specified in the inclusions.
Any services not specifically mentioned in the inclusions.
Entrances to the monuments.
Any increase in taxes or fuel, leading to increase in surface transportation and land arrangements, which may come into effect prior to departure .
Test Data
Test Data